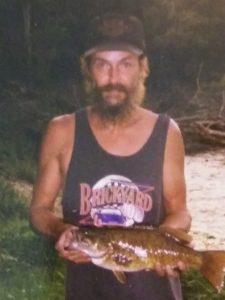 Daniel Joseph Reed, Sr., of Rushville, was born on May 20, 1957 in Connersville, a son to Clemon and Helen Reed.  He worked for Detroit Steel and was a member of the Laurel Conservation Club.  Daniel enjoyed the outdoors – hunting, fishing, and camping.  He never met a stranger and will be sadly missed by everyone.  Daniel was a great father, grandfather and friend.  On Monday, June 29, 2020 at the age of 63, he passed away.
Survivors include a son, Daniel (Shannon) Reed, Jr. of Rushville; two daughters, Shawnya Zurborg of Brookville, and Amy Reed of Connersville; grandchildren, Daniel Reed III, Kirsten Davenport, Chelsea Reed, Tyler Reed, Anneascia Reed, Lexi Zurborg, Roger Zurborg Jr., Jeremy Heaston Jr., Ryan Heaston, and Hunter Heaston; one brother, Kenny Reed of Metamora, and girlfriend, Alice Applegate. Besides his parents, he was preceded in death by Bill, Mickey and Gary Reed.
Services will be held on Monday, July 6, 2020 at 1 p.m. at Cook Rosenberger Funeral Home, 929 Main Street, Brookville.  Friends may visit with the family from 11 a.m. until time of service.  Burial will follow in Metamora Cemetery.
Memorial contributions may be directed to the Riley Children's Hospital.  To sign the online guestbook or to leave a personal memory please visit www.cookrosenberger.com.  The staff of Cook Rosenberger Funeral Home is honored to serve the family of Daniel Reed, Sr.