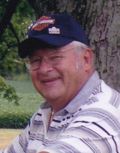 Gene Alan Williams, age 86, passed away Friday, June 26, 2020 at the home of his sister and brother-in-law, Carol and Dr. Howard Bonnett, in Greensburg, IN, with family members at his bedside.  Born May 21, 1934 in Greensburg, IN.  Gene was the eldest of four children of the late Fred S. and Naomi (Thurston) Williams.
Gene graduated from Greensburg High School in 1952.  He worked at Johnson Wholesale Co until entering into a tool and die apprenticeship at Chrysler Automotive in Indianapolis, IN in 1953.  During the Korean Conflict, he joined the United States Navy.  Following boot camp, he entered into the Navy Aviation Electronics School.  In 1954, he was stationed at NAS Glenview, IL and U.S. Naval Air Station in Anacostia, DC.  He was honorably discharged from the United States Navy on April 10, 1961.
After his military obligations, Gene married Betty Davis Eastwood on September 9, 1960.  His employment was a mechanical engineer for Federal Mogul, and BCA, first in Greensburg and then in Gallipolis, OH, while living in Point Pleasant, WV.  Following retirement, they moved back to Greensburg.
Gene belonged to the Masonic Lodge #36 in Greensburg and served as Past Master.  He was a member of the Scottish Rite and Murat Shriners.  He was also a member of The American Legion and The Fraternal Order of Eagles Aerie 927.  Gene was an avid golfer and a member of The Greensburg Country Club.
Gene was preceded in death by his parents and wife, Betty.  Survivors include; his brother – Roger T. Williams of Greensburg; his two sisters – Carol (Dr. Howard) Bonnett of Greensburg, IN and Kathleen (Raymond E.) Webster of Mishawaka, IN; his step-son – Roddy (Lorraine) Eastwood of Rushville, IN; Roddy's three daughters and their families; and his friend Norma Wells.
Family and friends are invited to attend a Graveside Service at 11am on Tuesday, July 7, 2020 at South Park Cemetery with Ray Sweet of the First Christian Church presiding. Military Honors will be conducted by the United States Navy and the American Legion Honor Guard.
In lieu of flowers, memorial contributions may be made in Gene's name to First Christian Church, 425 N. Broadway, Greensburg; The American Legion, Welsh-Crawley-Kramer, 326 E. Main St, Greensburg; or to Our Hospice of South Central Indiana, 2626 E. 17th St, Columbus, IN 47201.  Online condolences may be made to the family at www.gilliland-howe.com.