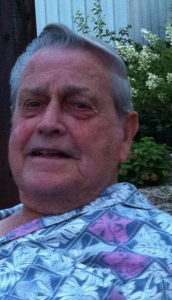 Carl Eugene Jackson Sr., 92 of Greensburg, passed away on Monday, June 29, 2020 at the IU University Hospital in Indianapolis. Eugene was born in Cynthiana, KY on March 1, 1928, the son of John and Rada (Sipple) Jackson. He married Marilyn (Merwin) Randolph on March 1, 1997 in Ft. Myers, FL and she survives.
Other survivors include his son – Carl (Rhonda) Jackson Jr. of Greensburg; his daughters – Shirley (Rex) Hutchcraft of Grapevine, TX and Linda Gilbert of Greensburg; six grandchildren – Neil Jackson, Gene Jackson, John Cruz, Michael Cruz, Amy Miller and Carrie Briggs; and ten great grandchildren.
He was preceded in death by his parents, and his four siblings Anna Smith, Roberta Redington, Marvin Reed and Harry Jackson.
Eugene was the founder of Jackson's Nursery near Lake Santee. He owned and operated his nursery for nearly 40 years before retiring. He was a hard worker and a man of faith. He was a former member of the Pilgrim Holiness Church in Clarksburg.
A visitation will be held for family and friends on Friday, July 3, 2020 from 10am – 11am at the Gilliland-Howe Funeral Home. A funeral service will be held, following the visitation, for the family. Memorial contributions may be made to the First Baptist Church in Greensburg. Online condolences may be made to the family at www.gilliland-howe.com.