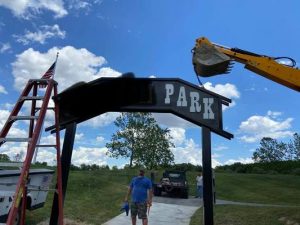 Batesville, IN—The City of Batesville Parks and Recreation Department will be holding a grand opening and name unveiling at Batesville's newest park located at 150 Six Pine Ranch Road, across from Batesville Tool and Die this coming Saturday at 11 am.
Last Fall, citizens submitted ideas for the name of the park, the submitted names were narrowed down until one was chosen and approved by the park board. There is a large metal archway that was installed last Thursday that is covered until the name is unveiled on Saturday at the grand opening. The park also features a paved walking trail, large playground area with a unique turf, soft surfacing, a swing set with toddler swings and a "birds nest" swing, and overlook deck for bird watching in the wetland area, flagpole, shelter, many picnic tables, and benches. The park was funded through a federal Land and Water Conservation Fund grant and the matching money came from the value of the approximately 3 acres that was donated from MMH. All amenities from the trash cans to the shelter and overlook deck were donated by citizens and local businesses. The park also connects to the hospital's paved trail behind the physician's center and will also eventually have a connecting trail to a paved trail behind BT&D.
The new flagpole will also be dedicated on Saturday with the VFW and American Legion color and firing squad present. The Patriot Guard will also give the park a Patriotic look with its display of flags. Handicap parking will be available at the new park parking lot and additional parking will be available in BT&D's parking lot.
Come out and celebrate Independence Day, the grand opening of the park, and be there for the name unveiling of the park on Saturday at 11 am. Please bring lawn chairs, masks are not required but recommended, and there will be room in the 3-acre park to practice social distancing.