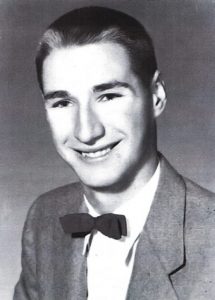 Southeastern Indiana Basketball Legend and former WRBI Sports Broadcaster Glen Butte has passed away.
Glen was a member of the Milan Indians 1954 Indiana State Basketball Championship team which inspired the movie, Hoosiers, and an inductee of The Indiana and Ripley County Basketball Halls of Fame.
He played College Basketball at Indiana University under legendary coach Branch McCracken. Butte returned to Southeastern Indiana where he became an educator and coach at Moores Hill, Dillsboro, Orleans, and eventually to Batesville where he was an Administrator and Athletic Director. During his time at Batesville, Glen thrived as one of the premiere Sports Announcers on WRBI for many years.
Nicole Butte and Jon Butte are organizing a fundraiser on behalf of Milan 54 Inc (Milan 54 Museum). Help preserve the Greatest Sports Story of All Time, Hoosiers. Donate to the Milan '54 Hoosiers Museum In Memory of Glen Butte (#55). The goal is to raise $55,000 in honor of Glen's #55. https://www.gofundme.com/f/glen-butte?fbclid=IwAR0o1ywKAM4oP1ojSnhjVd7dqs-8EtK8tBEAMzfUzWfdD1-m8ARpyO_-ylk
The staff of WRBI offers our thoughts and prayers to wife Dixie; daughter Lesa; son Jon; his 2 grandchildren; as well as many other family members and friends.
Photo courtesy of The Milan '54 Museum.