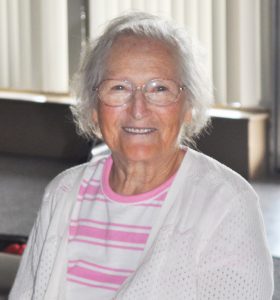 Mrs. Leola Maxine (Dennis) Brinson, age 91, of Benham, Indiana, entered this life on February 2, 1929 in Ohio County, Indiana. She was the loving daughter of, McKinley and Esther C. (Richards) Dennis, both of whom preceded her in death. She was raised in Ohio County, Indiana and was a 1947 graduate of Dillsboro High School. Leola was united in marriage on November 3, 1948 in Ripley County, Indiana to the late, Wilbur Brinson, Jr. This happy union was blessed with five sons, Wendell, Clay, Tim, Kim and Kerry. Leola and Wilbur shared nearly 50 years of marriage together until he passed away on March 30, 1998. Leola was employed as a custodian for the South Ripley School Corporation in Versailles, Indiana, retiring after several years of service. She was a faithful member for 60+ years of the Cross Plains Baptist Church where she held various offices. Leola was a faithful servant of God and her faith was very important to her. Leola enjoyed spending time with her family and friends, gardening and collecting rocks. Leola went to be with her Lord and Savior at 5:45 a.m., Saturday, June 6, 2020, at the Jewel Place in Madison, Indiana.
Leola will be lovingly remembered by her sons, Wendell Wade Brinson and his wife, Judy of Benham, IN, Clay Hale Brinson and his wife, Linda of Sebastian, FL, Tim Randall Brinson and his wife, Mariana of Lake Oswego, OR, Kim Randolf Brinson and his wife, Martina of Benham, IN and Kerry Lane Brinson and his wife, Tina of Canaan, IN; her 17-grandchildren; her 21-great-grandchildren; her 2-great-great-grandchildren; her brother, Raymond Dennis and his wife, Donna of Bear Branch, IN; her sister-in-law, Dolly Lipperd of Versailles, IN and her several nieces and nephews.
She was preceded in death by her parents, McKinley Dennis, died August 13, 1981 and Esther C. (Richards) Dennis, died July 26, 1994; her husband, Wilbur Brinson, Jr., died March 30, 1998; her 3-grandchildren; her sisters, Betty Jean Williams, died December 2, 2011 and Gladys LaVerna Alford, died May 16, 2010 and her brother, Lowell McKinley Dennis, died April 14, 2013.
Everyone must wear a mask and social distance and due to COVID-19, family only graveside service and interment will be conducted at 1:00 p.m., Thursday, June 11, 2020, by Pastor John Griffin at the Benham Cemetery, 648 East County Road 650 South, Ripley County, Indiana 47042.
In lieu of flowers, memorial contributions may be made to the Benham Church Cemetery Fund. Cards are available at the funeral home or online at www.haskellandmorrison.com