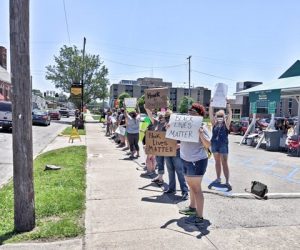 During Wednesday's coronavirus briefing, Indiana Governor Eric Holcomb encouraged Hoosiers to recall Martin Luther King's "I Have A Dream" speech made on the steps of the Lincoln Memorial. The Governor encouraged everyone to take a moment to listen to the entire speech, no matter who they are, and to relisten if they have heard it before.
Protests and demonstrations both peaceful and violent have been taking place all across the world for over a week now after the death of George Floyd in Minneapolis. This includes Southeastern Indiana. In Seymour on Monday and Tuesday, peaceful demonstrations took place at the Farmer's Market with the support of the Seymour Police Department, though rumors circulated at the time that they were not as peaceful as reported. The Seymour Police verified that organizers would not tolerate anything other than peace.
This week two local ladies, Sarah Garwin and Dawn Koch attempted to quickly organize a vigil for today to take place in Batesville in what they described as their "desire to do something in the wake of all the violence." After confusion from the community quickly escalated on social media on the intent of the planned organization, they were left with the decision to cancel the event for the safety of the attendees and the community. However, both Sarah and Dawn stated they are inspired by the response to the event. Community members encouraged by the original event to spread awareness chose to gather anyway outside of the Memorial Building.