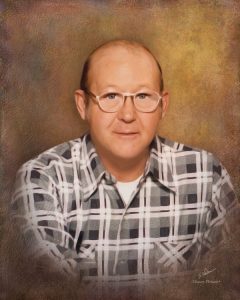 Mr. James Ernest "Jimmy" Brooks, of Grammer, Indiana, formerly of Switzerland County, Indiana, passed from life on June 2, 2020 after nearly 85 years here on earth. Jimmy Brooks was born on June 21, 1935 to Robert Maurice and Helen Ernestine Swango Brooks. Jimmy spent most of his young life on a small tobacco and cattle farm located on Brooks Road just north of Mt. Sterling in Switzerland County. With the money he saved raising tobacco and cattle, he bought his first car which was a 1949 Ford, three on the tree with overdrive. Jimmy graduated from Switzerland County High School in 1953 and began working at the U.S. Shoe Corporation in Vevay. He married Marietta K. Webb on April 7, 1955. Jimmy pulled his 20 foot trailer to Columbus with a barrowed jeep in 1956 as he started his new job with Cummins Engine Company with his wife and daughter in tow. The family later moved to a small four room house located in Grammer that with the help of his Dad and Father-in-law a breeze-way and nice garage was added. Jimmy always loved working on his vehicles and maintaining them and was a long time die hard Ford man and Nascar fan. Jimmy mainly worked 2nd and 3rd shift at Cummins which allowed him to work a second job for various farmers around Grammer for several years and he purchased forty acres on the west edge of Grammer in 1971. His first farm tractor that he purchased was a 1953 C A Allis Chalmers wide front end that would pull two fourteens and pop a wheelie when you lifted the seven foot disc up at the turns. His first cow purchase for the new farm was a Herford "of course" that he named "Elsie" that was also blind in one eye. After startling Elsie one day by approaching her on her blind side and finding out she could kick like a mule, he found out why he bought her so cheap. The first pig on the farm was a ruptured feisty gilt that was given to his son for helping Bob Dickey cut pigs at his farm and she was named "Arnold". Arnold had several litters and ate a lot of free Saps out of date donuts that Jimmy would bring in by the pickup load. After his divorce from Marietta, Jimmy married Lois Irene Aldred on March 6, 1977 who sold her farm in Mt. Sterling and brought her equipment to their new house and barns on the Grammer farm. Jimmy and Lois worked side by side together on their farm for many years raising livestock, hay and grain. Jimmy retired from Cummins in 1988 after 32 years of employment and continued to farm until 2001 when he and Lois had their farm sale. Jimmy was a member of the Alert Masonic Lodge No. 395 F&AM in Alert, Indiana. Jimmy was also a member of Bear Creek Baptist Church and supported his local Democrat Party. The family of Jimmy would like to express their sincere gratitude to the wonderful staff at Miller's Merry Manor in Hope, Indiana for their excellent care of Jimmy these last three and a half years and also to all Hospice staff for their wonderful care.
Jimmy will be missed by his wife, Lois Irene (VanTyle) Aldred-Brooks of Hope, IN; his daughter, Leta Brooks of Scipio, IN; his son, Dennis Brooks and his wife, Debbie of Elizabethtown, IN; his step-daughters, Marla Lamson and her husband, Loren of Vevay, IN and Anita Sanders of North Vernon, IN; his sisters, Joann Baxter of Aurora, IN and Kay Neal of Jacksonville, FL; his sister-in-law, Mary Ann Haskell of Columbus, IN; his grandchildren, Jason Brooks, Jennifer Brooks, Kayla Brooks, Doug Sanders, Dustin Sanders, Alicia Lack, Ashley Sanders, Marlena Townsend, Ben Lamson, James Lamson, Loren Jr Lamson and Dorothy Lamson and his several great-grandchildren.
He was preceded in death by his parents, Robert Maurice Brooks, died October 19, 1987 and Helen Ernestine (Swango) Brooks, died August 20, 1989; his daughter, Veda Dawn Brooks, died July 2, 1971; his 1st wife, Marietta Kay (Webb) Brooks, died February 15, 1996; his step-daughter, Jama Lois (Aldred) Hayes, died February 6, 2017; his great-grandchildren, Landon and Lucas Weaver; his brother, Johnny Brooks; his brother-in-laws, Bob Robinson, Harold Neal and Bud Baxter and his nephew, Tony Neal.
Funeral services will be conducted Monday, June 8, 2020, at 1:00 p.m., by Pastor Bill Secrest at the Haskell & Morrison Funeral Home, 208 Ferry Street, Vevay, Indiana 47043.
Interment will follow in the Vevay Cemetery, Vevay, Indiana.
Friends may call 11:00 a.m. – 12:45 p.m., Monday, June 8, 2020, at the Haskell & Morrison Funeral Home, 208 Ferry Street, Vevay, Indiana 47043.
Masonic Services will be conducted Monday, June 8, 2020, at 12:45 p.m., by the Switzerland Masonic Lodge No. 122 F&AM at the Haskell & Morrison Funeral Home, 208 Ferry Street, Vevay, Indiana 47043.
Memorial contributions may be made to the Bartholomew County Hospice or the Bartholomew County Democrat Central Committee. Cards are available at the funeral home or online at www.haskellandmorrison.com