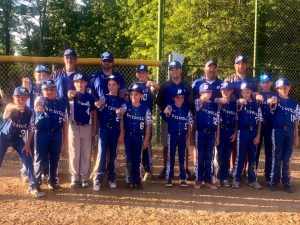 Congratulations to the 10U Batesville Bats for catching a runner-up finish in their first tournament last weekend!
The Bats traveled to Cincinnati, Ohio to compete in the Battle Royale presented by Big Inning Tournaments. Saturday's pool play wasn't a favorable start for the Bats as they fell short to Indy Clutch in game one. Determination paid off for the team as they captured a victory over Cincy Freedom in walk-off fashion, ending pool play with a 1-1 record.
On Sunday, May 31, the Batesville Bats returned to Cincinnati for bracket play. After a picture-perfect, walk-off ending to defeat Cincy Freedom, the team advanced to the semi-finals. Sunday's game two featured a home run by Camden Kaiser to lead the charge against Weststars, claiming a 14-1 victory. Despite their efforts, the hits of the Bats weren't enough to earn a championship win over Harrison Fury.
The 2020 10U roster showcases Jonah Anderson, Jackson Elston, Winston Garrett, Mason Herpel, Evan Ibold, Drew Jaisle, Camden Kaiser, Max Meyer, Gage Schomber, Jake Schornick, Liam Wagner, Max Walter and Adam Weber. The Batesville Bats 10U are coached by Andy Jaisle, Ryan Ibold, Casey Schomber, Jared Schornick, and Dan Walter.
Special thanks to the team sponsors: Aaron Garrett/Lohmiller Realty, Batesville Tool & Die, Buckey's Service Center, Bruns Gutzwiller, Enhanced Telecommunications Corporation, Joan Schornick/Tudor Square, Laudick Trucking, Southeastern Insurance/HR Block, Tom Tepe Auto Center, The Sherman, Toro's Mexican Restaurant, Tuba's Place, Wendy's – Greensburg, and the anonymous donation by fans of the Bats!
Fans of the Batesville Bats can follow their Facebook page: 10U Batesville Bats – 2020.
Players, coaches, and parents are looking forward to their 2020 Season! Go Bats!
Photo courtesy of Anna Ibold.