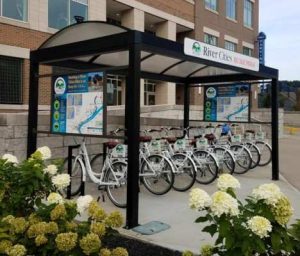 Lawrenceburg, IN—Looking for some family-friendly fun, a unique date opportunity, or maybe something to do with friends? River Cities Bike Share Program which features 30 "ready to ride" 7-speed bicycles with locking mechanisms located throughout the Cities of Lawrenceburg and Aurora, Indiana. There are 3 bike rental kiosk stations available with adjacent parking at each site. Locations include downtown Lawrenceburg next to Ivy Tech and the Lawrenceburg Event Center, along the Dearborn Trail in Aurora and on Main Street in Aurora.
The River Cities Bike Share Program supports connectivity to the Dearborn Trail which links both Cities, historic downtowns, the Ohio River access, neighborhoods, award-winning parks, as well as, accessible shopping and yummy eateries.
Download the Movatic App on your smartphone device. The "Rent, Ride & Return" bicycles are available to rent starting at $3.00 the first hour and $2.00 every hour after that. Click here for more information.