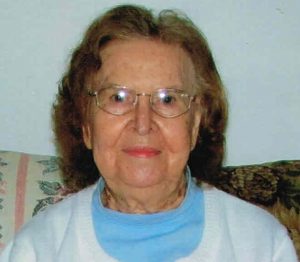 Nannie Tolliver Derflinger, 97, of Greensburg, Indiana, passed away on June 1, 2020 of natural causes at her daughter Sue's residence.
Nannie was born on February 21, 1923 in Harlan County, Kentucky, the sixth child of Marion and Parlie (Caldwell) Tolliver. She lived in Middletown, Ohio; Front Royal, Virginia; Denver, Colorado; San Antonio, Texas; and Hanau, Germany before moving to Clarksburg, Indiana where she has lived for the past 53 years.
Nannie grew up playing in the beautiful mountain country around Bledsoe, Kentucky.  She attended Red Bird High School near Beverly, Kentucky.  During WW II she served her country working at the Visco factory which made nylon in Front Royal, Virginia.  She met her husband of 43 years, Clarence W. Derflinger, a soldier, in Front Royal, and traveled with him extensively. Shortly after his retirement from the army, they moved to Clarksburg where they farmed for many years.  Nannie was a homemaker to whom family meant everything.  She loved to cook, bake, garden, and sew.  She especially loved surprising her children and grands with extra attention such as doll clothes for the girls and hunting sacks for the boys, and baked goods like German Chocolate Cake, or her famous yeast rolls. She loved making people happy. She loved helping people. When she learned of a need she filled it.  She truly had the gift of kindness, love, hospitality, and compassion.  Nannie was a Christian and a member of the Clarksburg Christian Church.  Even though she is no longer with us, she leaves behind memories filled with love, goodness, laughter, and wisdom.  She will be greatly missed.
She was preceded in death by her parents, Marion and Parlie; husband, Clarence; five brothers, Paul, Oscar, McKinley, Fred, and John Tolliver; two sisters, Betty Stockton, and Susie Franz.
She is survived by one brother, Clay (Sandy) Tolliver, two sisters, Clettis (Darrell) Napier, Mary (Melvin) Nantz, all of Bledsoe, Kentucky; numerous nieces and nephews; two daughters, Loretta Fay (Ralph) Hollenbeck, Hendersonville, North Carolina; Sue (Paul) Wenning, Greensburg; two sons, Clarence Ronald (Carol) Derflinger, Bloomington, Michael (Carolyn) Derflinger, Greensburg; 11 grandchildren, Troy (Lynnette) Hollenbeck, Todd Hollenbeck, Jeffrey (Michelle) Hollenbeck, Julie-Ann (Joseph) Dickerson, Amy Schlarb, Lorie (John) Zimmerman, Brandon (Kelsey) Schlarb, Christopher Derflinger, Michelle (Brian) Lang, Brandi (Kevin) Kaiser, Tanner (Miranda) Derflinger. 28 great grandchildren, Ashley Hollenbeck, Jason Hollenbeck, Taylor (Holden) Rice, Michael Hollenbeck, Marissa Dickerson, Tristan Dickerson, Cory Cool, Callie Cool, Katelyn (Ethan) Baird, Hannah Cox, Molly Cox, Hudson Schlarb, Norah Schlarb, Brittani Derflinger, Braxtin Kritlow, Alexis Derflinger, Carolynn Derflinger, Emmalynn Derflinger, Madilynn Derflinger, Taylor Lynch, Bryce Lang, Sierra Lang, Aiden Lang, Danika Lang, Gavin Lang, Allison Rippinger, Carmin Rippinger, Macenna Rippinger.
7 Great Great Grandchildren, Brayden Kellems, Maysin Kellems, Lisa Kellems, Zaiden Cool, Elijah Lynch, Jackson Lynch, Kasey Baird, and one on the way.
In lieu of flowers, memorial may be made to the Christian Appalachian Project, PO Box 55911, Lexington, KY 40555-5911.
Visitation for family and friends will be held on Friday, June 5, 2020 from 12:00 pm to 2:00 pm observing CDC precautions at Porter-Oliger-Pearson Funeral Home.
Funeral services will follow at 2:00 pm at the funeral home with Rev. Jerran Jackson of the Clarksburg Christian Church officiating. Burial will follow at South Park Cemetery.
Online guestbook and condolences can be made at www.popfuneralhome.com