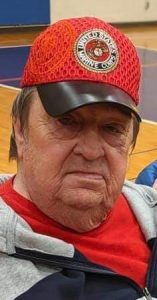 Dannie W. Flannery, of Moores Hill, was born on December 30, 1945 in Sunman, a son to Ben and Nora Crouch Flannery.  He married Susan Buckhave and she survives.  Dan served his country during Vietnam in United States Marine Corp.  He was a heavy equipment operator and in his spare time enjoyed being outdoors, fishing, hunting and shooting.  Dan especially loved spending time with his family.  On Saturday, May 30, he passed away at Shawneespring of Harrison, Ohio.
Survivors include his wife, Susan Flannery; children, Lori (Mike) Lanham of Moores Hill, Donnie Flannery of Sunman, Kim (Glenn) Grunkemeyer of Millhousen, and Danny Flannery of Hamilton, OH; siblings, Tom (Letha) Flannery, Mike Flannery, Kathy Amburgey, and Pam (Mark) Hunter, as well as 5 grandchildren.  Besides his parents, he was preceded in death by a sister, Sue Dole; one brother, Jerry Flannery and three infant brothers.
Cremation was chosen and no services will be held.  To sign the online guestbook please visit www.cookrosenberger.com.  The staff of Cook Rosenberger Funeral Home is honored to care for the family of Dan Flannery.