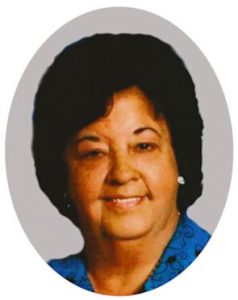 Delores A. Litzinger (nee Glaub), 79 died Thursday May 28th, 2020 at Christ Hospital in Cincinnati after a long illness. She was the first born child of John and Bertha (Wilhelm) Glaub on October 8th, 1940 in Morris, Indiana. She attended St. Anthony Catholic School in Morris and graduated from Oldenburg Academy. Following graduation she worked as a secretary for William (Bill) Hillenbrand. She married Emil Litzinger, Hamburg, on April 8, 1961 at St. Anthony of Padua Church in Morris, and he survives.
After a few years she left her work life for family life. She is survived by two sons, Roger Litzinger (Tricia), Batesville and Robert Litzinger (Sherry Foreman), Versailles. She is also survived by five grandchildren; Stephanie Litzinger, Oldenburg; Timothy Litzinger, Avon; Allison Litzinger, Franklin; Hannah Litzinger, Versailles; Bradley Litzinger, West Layfayette and five great-grandchildren Aaliyah, Aiden, Clara, Kaeden, Hoyt and a sixth great grandchild due soon to Hannah.
She is also survived by brothers John Glaub (Aggie), James Glaub (Rita), Martin Glaub (Merita), and Robert Glaub, She is preceded in death by her parents and three brothers Jerry Glaub (Barbara), Joseph Glaub (Linda), and Jack Glaub.
Delores was a devout catholic and very active in St. Anthony of Padua in Morris. She served on many committees over the years including working on a bingo team over 30 years, anchoring a booth for the church's Labor Day picnic with her family members for decades, serving in the angelic church choir and live nativity every Christmas season. In addition she worked with the Ladies Sodality hosting luncheons, and she was a Eucharistic minister.
More than anything else Delores loved her family and friends. She loved to play bingo and cards. She enjoyed cruising and traveling with Croswell tours. She loved to cook and bake and her deviled eggs were highly sought after at every family gathering. Above all else she treasured spending time with her nieces, nephews, grandchildren and great grandchildren. She was deeply loved by all who knew her.
Visitation will be Tuesday, June 2nd, from 9 a.m. until Noon at the Weigel Funeral Home. Attendees will need to observe social distancing while in the funeral home. The family requests no physical contact (hugging, handshakes, etc.) and would prefer you wear a mask to protect those members most at risk. Due to the Governor's current mandate limiting capacity of churches, funeral services will be private. The family requests memorials to the St. Anthony's Capital Improvement Fund.