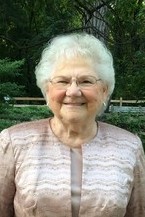 Barbara Ellen Weber age 82 of Greensburg, returned to her heavenly home on May 30, 2020 after a short battle with cancer.  Her unwavering faith in God, the love and prayers of family and friends, and the wonderful care of Hospice allowed her to pass peacefully.
Barbara was born in Bartholomew County, Indiana on Feb 6, 1938 to Fred & Olive Martin.  She grew up in a large loving family. She was number 6 of 7 children. Her siblings are Harold (Mildred) Martin, Catherine (Gene) Bradley, Charlotte (Floyd) Jenkins, Marion (Kay) Martin, Eileen (Vincent) Frazier, Bill (Elaine) Martin.
She married Chesley Clarence Weber on July 28,1955 and were together until her husband's passing on August 16, 1978. They had 3 sons, Anthony Wayne, Gregory Alan, and Bryan Chesley. Her parents, husband Chesley, son Bryan, siblings Harold, Charlotte, and Marion have preceded her in death.
She leaves behind  2 sons, Tony (Judy) Weber from Rancho Santa Margarita, CA & Greg (Jane) Weber from Greensburg, IN 7 grandsons, Andy (Cathy) Weber, Adam (Cara)  Weber, Jordan (Brittany) Weber,  Matt (Tina) Weber, Keith (Victoria) Weber, Cole (Nicole) Weber, and Brock (Aly) Weber and 15 great grandchildren.
Barbara worked at Carol Cook Dress Factory for 23 years, Elanjay dress Factory in Shelbyville until it closed & BCA/NTN where she retired in 2000 after several years of service. Retirement did not last long. From NTN she went to work part time at Decatur County YMCA where she lovingly cared for children in their daycare for several years.
Barbara was a member of Community Church of Greensburg, a wonderful cook, and could make a sewing machine talk!  Her prize possession was her family.  She travelled to spend time with those out of state, had one on one dates with the great grandchildren, and loved to support and attend her grandchildren and great grandchildren's sporting events and activities whenever possible.
Funeral arrangements are being made through Porter Oliger Pearson Funeral Home. Drive by visitation 4-7 at Community Church, 1427 W. Vandalia Rd., Greensburg, Monday, June 1st, followed by a short outside service. A private burial will be held on Tuesday morning where she will be laid to rest at the South Park Cemetery. Pastor Dan Pratt from Community Church of Greensburg will be officiating.
In Lieu of flowers the family is requesting donations be made to Community Church building fund.
Online condolences can be made to the family at www.popfuneralhome.com