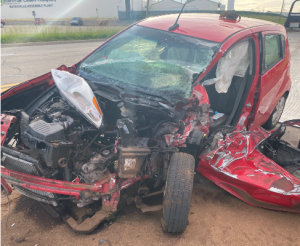 Batesville, IN—Wednesday evening at approximately 6:58 pm, Ripley County Law Enforcement Units were dispatched to a possible intoxicated or impaired driver operating a red Chevrolet Spark with Ohio license plates traveling west on State Road 46 from State Road 101 in Penntown. The 911 caller described the vehicle as being all over the road.
By around 7:05 pm Corporal Ryan Metcalf with the Batesville Police Department observed the vehicle traveling westbound on SR 46 near SR 129. Corporal Metcalf was able to get behind the suspect vehicle and observed it traveling left of the centerline. As he attempted to make a traffic stop, the vehicle continued left of center into oncoming traffic and collided with the rear axle of an eastbound semi-tractor trailer. The collision occurred on SR 46, just west of East Pearl Street.
Further investigation revealed that the vehicle was being operated by Michael Scott Watkins, 34, of Wilmington, Ohio. Watkins was accompanied by a front seat passenger, Justin Lee Walton, 26, of Maineville, Ohio. The White 2012 Peterbilt semi traveling east was operated by Thomas A. Hendricks, 48, of North Vernon.
Batesville Fire & EMS along with Ripley County Medics responded to the scene to treat the injuries of both Watkins and Walton. The driver of the semi was not injured in the collision. Walton was transported to Margaret Mary Health for minor injuries sustained in the crash. Watkins was also transported to Margaret Mary Health with severe but non-life threatening injuries.
The investigation is ongoing and toxicology results are pending in the case.