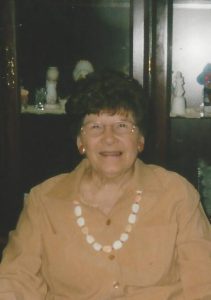 Marguerite Risse, age 94 passed away Sunday, May 24, 2020 at Rosedale Green Nursing Home in Covington, Kentucky. Born October 26, 1926 the daughter of Clarence and Justine (Simpson) Kiefer in Covington, Kentucky.
Marguerite, a 1944 graduate of Bright high school, was married to the late Melvin J. Risse, July 29, 1944 in Newport, Kentucky. She worked as an IBM Billing Clerk.
Marguerite is survived by sister Carolyn Eve (good friend Lon Gearhart) Lepper, her dear friends Tim and Patty Kramer. Also survived by her long-lost son Delbert E. Risse.
Marguerite is preceded in death by her parents, Clarence and Justine Kiefer, her husband Melvin Risse, and her son Kenneth L. Risse.
Visitation will be held privately for family and close friends Monday, June 1, 2020 from 12:00 P.M. until time of funeral service at 1:00 P.M. with Pastor Barton Howard officiating all at Jackman Hensley Funeral Home 215 Broadway Street Harrison, Ohio 45030. Burial will follow at Glen Haven Cemetery in Harrison, Ohio.