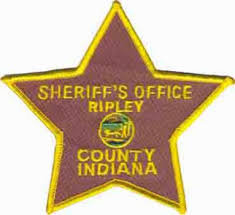 Dillsboro, IN—Late Saturday morning, Ripley County Sheriff's Deputies responded to a report of a two-vehicle accident involving injuries located on east US 50 in Ripley County, west of Dillsboro.
Arriving on scene officers found that Joseph Sandlin, 33, of Milan, had been traveling west on US 50 operating a blue 2008 Harley Davidson motorcycle when he collided with the rear of a white 2007 Chevrolet pickup truck, also traveling west on US 50, being operated by Jerry Palmer, 69, of Milan Indiana.
Palmer, the only occupant of the pickup truck, was not injured in the accident and was released at the scene.
Sandlin, who was wearing a helmet at the time of the crash and the only occupant of the motorcycle, succumbed to his injuries and was pronounced deceased at the scene by the Ripley County Coroner's Office.