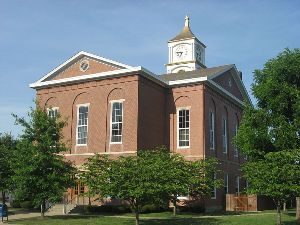 Versailles, IN—Ripley County Clerk Ginger J. Bradford wishes to announce to the voters of Ripley County that in-person voting for the Primary Election will begin today in the Election Room of the Court House Annex located at 102 West First North Street, Versailles. Hours are 8 am until 4 pm from today through Friday. Also on Saturday, May 30 from 8 am until 3 pm. The final time to cast an in-person ballot prior to Election Day is Monday, June 1 from 8 am until noon. Be sure to bring your picture I.D.
On June 2, Election Day, voters who have not voted early will be able to cast their votes in their regular polling locations with one exception. Those who voted at the Batesville Knights of Columbus in the past will be voting at the Batesville Middle School New Gymnasium. Voting hours are 6 a.m. until 6 p.m.
If you have questions, contact the Election Room at 812-689-4783.