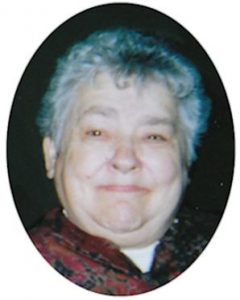 Patricia A. Hoegeman, age 72 of Batesville, died Friday, May 22, 2020 at her home. Born June 13, 1947 in Milan, Indiana, she is the daughter of Edith (Nee: Johnson) and Charles Smith. She married Philip Hoegeman August 26, 1967 at St. Louis Church. Pat was the caretaker of her family before going to work for the Batesville Community School Corporation, where she retired.
Pat gave freely of her time throughout the community. She was a member of the ladies' auxiliaries of VFW Post 3183, American Legion Post 2171 and the Eagles Aerie 1130. She was also on the board of trustees for the Batesville Athletic Boosters. Pat will be most remembered as a fixture at Batesville sporting events. For 23 years she kept stats for the high school teams in addition to working the gate and taking tickets, which explains why she never knew a stranger. Pat and Phil's time and efforts were recognized by the Indiana Interscholastic Athletic Administrators' Association, receiving the Volunteer of the Year award. She enjoyed several interests which included crocheting, raising her tomatoes and cucumbers along with being a Team Penske NASCAR fan and periodic trips to the river boat. Her greatest joy though, was her grandchildren. She loved them dearly and attended all their activities and sporting events.
Pat is survived by her husband Phil; daughter and son-in-law Sherry and Eric (Elrod) Ripperger of Peppertown; son and daughter-in-law Chuck and Elizabeth Hoegeman of Trafalgar, Indiana; brothers Mike and Rick Smith, both of Napoleon; seven grandchildren and eight great grandchildren. She is preceded in death by her parents.
Visitation will be Saturday, May 30th from 9 – 11 a.m. at the funeral home. Attendees will need to observe social distancing while in the funeral home. A private funeral service for immediate family members only will be held at 11:30 a.m. with Rev. Stan Pondo officiating. The service will be live-streamed and can be viewed by going to www.weigelfh.com and clicking the link on Pat's obituary page.
The family requests memorials to the Batesville Athletic Boosters or the Steve Cochran Scholarship Fund.