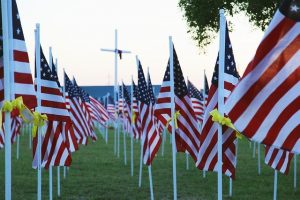 Versailles, IN—Though the Veterans Day Parade and ceremony is canceled in Versailles due to the COVID-19 pandemic, the Versailles American Legion will be hosting several private ceremonies throughout the area over the weekend to honor deceased veterans.
Saturday
Versailles American Legion will gather at 11 am at the Post Home and then proceed to Cliff Hill Cemetery to place flags on the graves of all the veterans.
Sunday
At 8:45 am members of the Versailles Legion will assemble and proceed to honor all deceased veterans buried at the area cemeteries. The schedule is :
9:15am -Elrod
9:30 am -Marble Corner
9:45 am -Tanglewood
10 am-Holton
10:15 am -Shelby
10:30 -New Marion
10:45 am -Benham
11 am -Olean-St. Pauls
11:15 -Olean-St Peters
11:30 -Akers- Friendship
11:45am -Dewberry-St Pauls Lutheran
12:15 pm -Cross Plains
12:30pm -Salem
1 pm -West Fork
1:15pm -Grandview Memorial Gardens
All those who attend are encouraged to practice social distancing in accordance with the State of Indiana regulations.
Monday
Legionnaires will meet at the Post Home at 10:30 am and proceed to Cliff Hill Cemetery to honor our deceased veterans. These services are not open to the public this year.