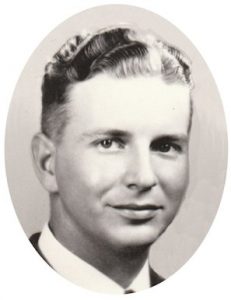 Dennis V. Gehring, age 94 of Springfield, Ohio and formerly of Batesville Indiana, died May 18, 2020. Born December 31, 1925 in Oldenburg Indiana, he is the son of Eleanor (Nee: Haverkos) and Joseph Gehring.
Dennis served in World War II in the Navy on a U.S. Landing Ship Tank (LST). He then used the GI Bill and went to Purdue University. He began his working career as a teacher at Batesville High School before becoming a Manager of Batesville Casket Company. In 1972, Dennis became President of Springfield Metallic Casket Company in Springfield Ohio. At this time he earned his Master's Degree in Personnel Management from Eastern Michigan University, and he moved to the position of Human Resources Director for International Harvester in Springfield before retiring in 1988.
Dennis was a member of the Prell-Bland American Legion Post #271, Ripley County Saddle Club, Springfield Knights of Columbus Council #624, United States Landing Ship Tanks (LST), Ohio LST Amphibs Association, Northwood Hills Country Club in Springfield, Miami Valley Duplicate Bridge Club and the American Contract Bridge League. He was a past president of the Batesville Jaycees, the Batesville Lions Club, the Ripley County Saddle Club, the Board of Directors of the Springfield Junior Achievement and served as chairman of the Northwood Hills Country Club Greens Committee.
Dennis ("Denny") was an avid outdoorsman. In Batesville, he had 19 acres with horses, cows, ducks and chicks, as well as a pond where he enjoyed fishing and woods for hunting. He had a love of horses, riding in horse shows and trail rides as a member of the Ripley County Saddle Club every summer. He continued to ride well into his 80's. He would camp in his camper and ride horses there every summer holiday, and continued camping until this year.
Dennis also enjoyed playing golf at Northwood County Club and played well into his late 70's. His love for the outdoors and fishing was a lifelong passion that he could share with his grandchildren as well as gardening at his home with vegetables and fruits that he used in his daily cooking. Duplicate Bridge was a passion for when he needed to be inside, and he loved the mental challenge of this game until he was 93. He played most often at Springfield Elderly United.
He is survived by his daughters Debbie Kokoruda (Dennis) of Terrace Park, Ohio, Dee Anne Wichner (Albert) of Springfield, Ohio, Dana Passerello (Tom) of Davenport, Florida; brother Myron Gehring of Oldenburg, Indiana; five grandchildren Alicia Anstine (Andy) of Springfield, Ohio, Eric Wichner (Jessica) of Springboro Ohio, Evan Kokoruda of Cincinnati Ohio, Austin Kokoruda of Detroit, Michigan, and Tommy Passerello of Austin, Texas. , as well as four great grandchildren and several nieces and nephews. In addition to his parents, he is also preceded in death by sisters Thecla Parker, Alfrieda "Fritzy" Thalheimer, and brothers Fr. Gordon Gehring O.F.M., Fr. Owen Gehring O.F.M., and Fr. Irvin Gehring O.F.M.
Visitation will be held from 10 – 10:30 a.m. at the funeral home on Friday, May 29th. Funeral services will follow at 11 a.m. at Holy Family Church in Oldenburg with Rev. Carl Langenderfer O.F.M. officiating. Burial will be in St. Louis Cemetery with military honors being conducted by the Prell-Bland American Legion Post #271 and the Ripley County V.F.W. Post #3183. The current Governor's mandate allows churches to begin opening again for services that are open to the public to the extent that six feet social distancing is required among all individuals and will reduce the capacity of the church according. You are encouraged to go to www.weigelfh.com and on Dennis's obituary page leave a message for the family or use the link on our home page to send a "Hugs from Home." Memorials may be made to the Prell-Bland American Legion or the Ripley County V.F.W. and sent to the funeral home.