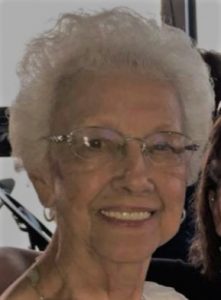 Lydia Mae Beard, 88, of Georgetown, Kentucky passed away Wednesday, April 29, 2020 at her home with family by her side.  Lydia was born Saturday, December 19, 1931 in Diablock, Kentucky near Hazard, Kentucky, the daughter of the late John and Lydia (Fields) Flannery.  She married William Beard on July 10, 1954 and he preceded her in death in 2005.  She was a member of the Dillsboro Trinity Lutheran Church and she retired from Star One real estate.  She participated in Trinity's Lutheran Women's Missionary League (LWML) and their BINGO activities at The Waters in Dillsboro.  She also provided food and service at funeral dinners.  She attended Bible Class/Topic Studies and served as a Sunday morning Greeter.  Lydia volunteered and supported the efforts of the Dillsboro Community Food Pantry.  She loved her grandchildren, and enjoyed visiting the oceans and beaches, especially Cocoa Beach, Florida.
Lydia is survived by her son Jonathan (Melissa) Beard of Shanghai, China and daughter Lisa (Greg) Sizemore of Butterfly, Kentucky; six grandchildren; eight great-grandchildren; and three great great-grandchildren.  She was preceded in death by her parents, husband, daughter Theresa Campbell-Couch, three brothers and a sister.
To adhere to the Governor's Covid-19 mandate, a private visitation will be held for Lydia Beard's family.  A public graveside service will be held at 2:30 PM Monday, May 4, 2020 at Oakdale Cemetery, Dillsboro, with Rev. Richard Kolaskey officiating.  Memorials may be given in honor of Lydia to Trinity Lutheran Church or Oakdale Cemetery.  Filter-DeVries-Moore Funeral Home entrusted with arrangements, Box 146, Dillsboro, IN 47018, (812) 432-5480.  Please reach out to the family through our website at www.filterdevriesmoore.com to leave an online condolence message or memory.