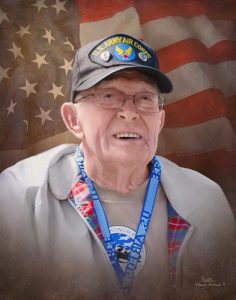 Mr. Richard Edward "Dick" Ballard, age 94, of Indianapolis, Indiana, entered this life on September 1, 1925 in Indianapolis, Indiana. Dick was the loving son of the late William Matthew Ballard, Sr. and Helen Beatrice (Kornbroke) Ballard. He was raised in Marion, Indiana and was a 1943 graduate of Marion Senior High School. He attended Purdue University in West Lafayette, Indiana for one year. Dick was inducted into the United States Army on October 17, 1945 in Indianapolis, Indiana, rising to the rank of Private. He served in company D1560th SCU Reception Center at Camp Atterbury, Indiana. Dick was in the 8th Photo Tech SQDN 40th Bomb WG in Oxford, England and rose to the rank of Corporal. He received the World War II Victory Medal and the Army of Occupation Medal Germany. He was honorably discharged on March 7, 1947 at Fort Sheridan, Illinois. He served in the United States Army Air Force Reserves and was honorably discharged on February 19, 1950. Dick was united in marriage on September 30, 1949 at the Fairview United Methodist Church in Fairview, Indiana to Hazel Eileen Moreillon. This happy union was blessed with a son, Jeffrey and two daughters, Lynn and Marsha. Dick and Hazel shared nearly 71 loving years of marriage together until his death. Dick was employed as a designer for Thomson Consumer Electronics RCA in Indianapolis, Indiana, retiring in 1989 after 17 years of service. He was a member of the Old Bethel United Methodist Church in Indianapolis, Indiana. Dick enjoyed woodworking, camping with his family, was an avid reader and will be deeply missed by his loving family. Dick passed away at 5:13 a.m., Sunday, April 26, 2020, at Westminster Village North in Indianapolis, Indiana.
Dick will be missed by his loving wife, Hazel Eileen (Moreillon) Ballard of Indianapolis, IN (formerly of Fairview, IN); his son, Jeffrey Ballard and his wife, Suellyn of Indianapolis, IN; his daughters, Lynn Holliday and her husband, Don of Indianapolis, IN and Marsha Branson and her husband, Phil of Noblesville, IN; his grandchildren, Karen, Patrick, Zachary, Brett, Kelly, Bryan, Bethany, Kathleen and Jackson; his great-grandchildren, Adam, Beau, Drew, Parker, Riley, Connor, Sam, Maggie, Harper and Emilia and his several nieces and nephews.
He was preceded in death by his parents, William Matthew Ballard, Sr., died October 26, 1968 and Helen Beatrice (Kornbroke) Ballard, died May 9, 1989 and his brother, William Matthew Ballard, Jr., died December 24, 2012.
Due to COVID-19, Private Entombment Services will be conducted by Rev. Robert "Bob" McMillen at 2:00 p.m., Thursday, April 30, 2020 in the Washington Park East Cemetery, 10612 East Washington Street, Indianapolis, Indiana 46229.
Memorial contributions may be made to the Old Bethel United Methodist Church or Charity of the Donor's Choice. Cards are available at the funeral home or online at www.haskellandmorrison.com