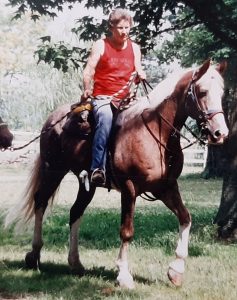 On April 16th, 2020, Louise Cahoon Schotte passed away in hospice care at home, under the loving care of her niece and daughter, comfortably at the age of 93.
Louise Cahoon was born April 28, 1926, in New York, NY to parents Louis and Jessie Cahoon. Louise was a loving, stubborn woman who lived her life on her terms. An avid lover of horses, Louise was always on the move, traveling the country to ride her horses anywhere and everywhere, with her favorite location being Brown County State Park in Indiana. After the tragic loss of her daughter Betty Jean in 1985, Louise took special care of her grandchildren, providing maternal guidance sadly taken from them too soon.
Louise was preceded in death by her parents, Louis and Jessie Cahoon, brothers Edward, Louis, James and Donald Cahoon and sisters Ruth Cahoon and Mary Jane Moran. She was also preceded in death by her daughter Elizabeth Jean Stenger (Nogami). She is survived by sister Betty Ann Wright (Cahoon), adopted daughter Linda Borgelt, son Russell Morrison and daughter Alix Morrison, grandchildren Heidi Morrison, Michelle, Mark, and Beth Stenger, great-grandchildren Skye and Mikayla Cable, Dustin and Peyton Courter, niece Judi Charron (Wright) and countless other nieces, nephews and other relations.
There will be a celebration of life to be held at a later date. She will be cremated and interred with her daughter Betty Jean Stenger at Spring Grove Cemetery in Cincinnati, OH