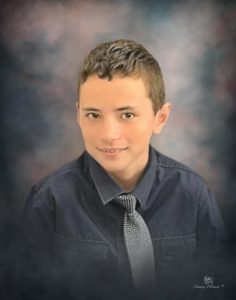 James Samuel "Sam" Ridener, age 15, of Vevay, Indiana, entered this life on March 10, 2005 in Cincinnati, Ohio. He was raised in Switzerland County, Indiana and was currently in the 8th grade at Switzerland County Middle School. Sam was active in the 4-H Rockers, Switzerland County FFA, National Junior Honor Society and Switzerland County Middle School Builders Club. Sam will be remembered for his love of FFA, 4-H, soccer and baseball. He also enjoyed riding his four-wheeler, playing video games, swimming and spending time with his family and friends. Sam passed away on Saturday, March 28, 2020, at his residence due to a house fire in Vevay, Indiana.
Sam will be deeply missed by his parents, Darwin Harold "Dobbie" and Lisa M. (Phelps) Ridener of Vevay, IN; his paternal-grandparents, Darwin and Jeanette Ridener of Vevay, IN; his siblings, Carly Archer and her husband, Adam of Vevay, IN, Casie Jesop and her husband, Ryan of Vevay, IN, Courtney Dayadharum and her husband, Nathaniel of Vevay, IN, Joe Spilman and his wife, Shellie of Vevay, IN, David Campbell of Vevay, IN and Jason Campbell of East Enterprise, IN; his cousins, Halle Archer, Adalyn Archer, Beckham Archer, Jett Archer, Ashlyn Jesop, Easton Jesop, Isaiah Dayadharum, Micah Dayadharum, Madison Spilman, Michael Spilman, Mason Campbell and Rayson Campbell and his numerous aunts and uncles.
He was preceded in death by his maternal-grandparents, Bill and Del Phelps; his aunts, Amy Childress and Chrissy Ridener. Sam was joined in death by his siblings, Paige Allison Marie Ridener, Jordan Thomas Ridener, Joshua "Austin" Ridener, Emilee Alyssa Ridener and Elizabeth "Grace" Ridener.
Private family services are being held at the convenience of the family.
A Celebration of Sam's Life will be held at a later date.
Interment will be held in the Vevay Cemetery, Vevay, Indiana.
Memorial contributions may be made to the James Samuel "Sam" Ridener Memorial Fund c/o Haskell & Morrison Funeral Home. Cards are available at the funeral home or online at www.haskellandmorrison.com