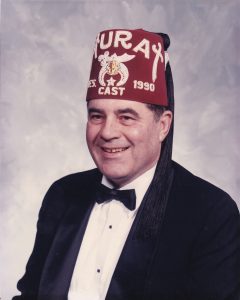 William L. Baumgartner, 87 of Greensburg, passed away on Monday, April 6, 2020 at Morning Breeze in Greensburg. Bill was born on November 6, 1932 in Greensburg, the son of William and Helen (Bobrink) Baumgartner. He was a 1950 graduate of Greensburg High School and a 1957 graduate of Hanover College. Bill served in the US Army after high school.
Bill worked for Phillips Petroleum Co. as an auditor, Profit Management, the Greensburg Water Office, and was the owner of Leader Shoe Store in Greensburg for 15 years. He was member of the First Presbyterian Church, American Legion (Past Commander), the Eagles, the Elks, Masonic Lodge, Scottish Rite, Murat Shrine of Decatur County (Past President), Murat Council of Units and Clubs (Past President), Murat Railroad Club (Past President), Murat Dramatic Cast (Past President) and Decatur County Railroad Club.
Survivors include his three children – Mike Baumgartner of Greensburg, Chris Baumgartner of Columbus and Nancy Gibson of Hamburg and one grandson – Ryan Baumgartner. He was preceded in death by his parents and his wife Doris (Wagner) Baumgartner.
Due to the current health climate and government restrictions on gatherings there will be no public services at this time, a celebration of life will be held at a later date. Memorial contributions may be made to the Shriners Hospital for Children. Online condolences may be made to the family at www.gilliland-howe.com.