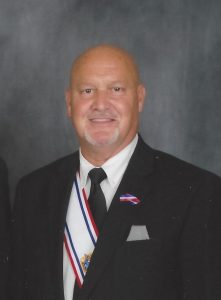 George Edward Redelman, age 60 of Lawrenceburg, Indiana passed away at his home Tuesday, March 31, 2020. Born August 19, 1959 in Hamilton, Ohio the son of Arnold "Flick" and Juanita (Myers) Redelman.
George, a 1977 graduate of William Henry Harrison High School, attended St. Lawrence Catholic Church, and was a 4th Degree Knight with the Knights of Columbus William Kreis Council 1231 in Lawrenceburg, Indiana. George also volunteered at the Community Center and the Community House in Lawrenceburg.
George is survived by his mother Juantia Redelman, children Andrea (Eddie) Vignale and Rob (Kortney) Redelman. Grandfather of Makenzie and Ryan Vignale and Dalton and Ethan Redelman. Brother of Kenneth Redelman, John (Faye) Redelman, Julie (Greg) Schafer and Leah (Barry) Anderson.
George is preceded in death by his father Arnold "Flick" Redelman, brother Eric Redelman, and sister Janet Schaible.
All services will be for immediate family and by invitation only, Visitation will be held Friday evening, April 4, 2020 from 5:00 P.M. to 8:00 P.M. at Jackman Hensley Funeral Home 215 Broadway Street Harrison, Ohio 45030 and Mass of Christian burial will be at 11:00 A.M Saturday, April 5, 2020 at St. John the Baptist Church 10010 Carolina Trace Rd. Harrison, Ohio 45030. Burial will follow at Glen Haven Cemetery in Harrison, Ohio.
Memorials may be directed to the Knights of Columbus William Kreis Council 1231 Lawrenceburg, Indiana c/o the funeral home.
Due to the COVID-19, if you are not feeling well, or those who have compromised immune systems which in anyway increases the chance of complications from the COVID-19 virus are strongly encouraged to stay home. We will be uploading the recorded service to our website for all those who cannot attend and posting it via Facebook live. Everyone is encouraged to sign the online guestbook for the family at jackmanhensley.com