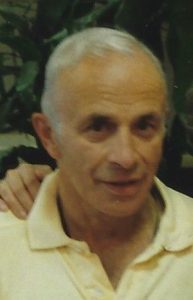 Robert Page Rust, Greensburg civic leader, merchant, activist and coach, died Saturday, March 28 at his home in Morning Breeze Retirement Center and Health Care. He was 88. His is one of the first deaths in Decatur County attributed to Covid-19.
He is survived by his wife of 67 years, Rita (Navarra) Rust, also at Morning Breeze.
A lifelong member of St. Mary's Parish, where he was baptized, Rust helped found the St. Mary's Parish Council in 1968, serving on it for several years, as well as teaching CCD classes into the 2010s.  In 2012 he won the Indiana Right to Life's Lifetime Achievement Award for his work with Decatur County Right to Life, where he also served as president, having devoted his life to the pro-life movement for three decades, ended only by a stroke and open heart surgery in 2012.
In 1969 Rust became a pivotal member of the group of civic leaders that built Greensburg High School, opened in the fall of 1971.  He was president of the holding company set up to finance the $4.5 million ($30 million in today's dollars) required to complete this landmark project.
Rust excelled at playing and coaching sports.   Nearly a generation of young boys — and eventually girls —benefited from his supervision in youth flag football. From 1968 through 1988 he coached teams in fourth- through sixth-grade leagues operated in later years by the Decatur County YMCA, teaching football fundamentals that would serve his young charges well in their future play for Greensburg High School.
That was not all he did for the local YMCA. From 1973 to 1988 he served on its board of directors, co-chairing a capital campaign that netted $750,000 —nearly $4 million in today's dollars.
Rust attended high school at his father's alma mater in Northwest Arkansas, Subiaco Academy, operated by the Benedictine monks of Subiaco Abbey.  He excelled at sports and graduated in 1949. As starting fullback he led Subiaco's football team in 1947 that had an 11-1 season, losing only in the final state championship game to Little Rock High, the state's largest high school.
He enrolled at the University of Notre Dame the following year, where he graduated with a degree in journalism in 1953, with classmate Regis Philbin. He played several positions on the varsity practice football squad from 1949 through 1952 under the direction of storied head coach Frank Leahy, during consecutive national championships.
Born in Greensburg in 1931 to Oskar D. and Zita Mae (Scheidler) Rust, Robert moved with his family to Cincinnati in 1938, attending St. Catherine's grade school while his father worked various sales jobs during the depression. His family moved to the farm owned by Zita Mae's mother, Mrs. Frank (Christina) Scheidler, just outside the old Greensburg city limits, in 1946, a year before he departed for prep school. Following his first year at Notre Dame in 1950, he met Rita Marie Faith Navarra, the daughter of Philip and Prudence Navarra; they married in September 1953.
Following ROTC training at Notre Dame, Rust served in the Army starting in 1953, with basic training at Fort Benning (Georgia). He was commissioned a Second Lieutenant and served in the infantry at Fort Leavenworth (Kansas) before returning to Greensburg for good with an honorable discharge in 1955, joining the family retail and wholesaling businesses.
Following his father's sudden death in 1965, Rust was thrust into the role of managing both businesses — Rust and Sons, a wholesale supplier to retail stores from Iowa to Tennessee, and the Fair Store, a variety retailer, which operated on the square continuously from the 1920s until its closure in 1974. His brothers and sister-in-law later joined him at Rust and Sons, eventually renaming it Rust Wholesale in 1985.  He retired in 1998.
In addition to Rita he is survived by his four children: David (65), of New York City; Diane (64) of Dayton Ohio; Mark (62) of Chicago, Illinois; and Martin (61), of Richmond, Virginia; as well as 10 grandchildren and seven great-grandchildren.
He is also survived by his brothers Richard, J. Gregory and Joseph, all of Greensburg, and his sister Christine Renée Yarmuth, of Louisville, Kentucky. He was pre-deceased by his sister Suzanne Croy of Greensburg in April 2016.
Given current circumstances there will only be a private graveside service this week, but a larger memorial will be announced for spring-summer.   Donations in Robert Rust's name can be made to Decatur County Right to Life or Catholic Charities USA.
Porter-Oliger-Pearson Funeral Home has been entrusted with the arrangements and online condolences can be made to the family at www.popfuneralhome.com.