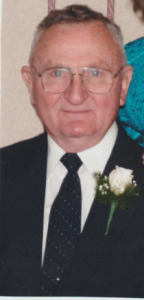 J. Howard Ernstes was born on January 21, 1920 to Lawrence B. and Christina (Fisse) Ernstes at their home in rural Decatur County. He was the fourth of five siblings, Henry, Kathryn, Ralph and Jean.
There was neither indoor plumbing nor electricity. The entire family pitched in to take care of the 160-acre farm. Howard, for example, woke up at 4:30 AM to feed the animals before walking to the two-room Middlebranch School with his brothers and sisters. On weekends, the family rode into town to attend church and sell cream and eggs at the Courthouse Square. This simple life sustained the family through the Great Depression; recalling that time, Howard said that "there just wasn't much."
Howard later attended school at Saint Mary's and Greensburg High School, graduating in 1938. The caption next to his high school graduation photo read: "He hasn't decided what his profession will be, but whatever it is, as his name suggests, he'll work at it in earnest. He has been the baseball catcher for three years."
Not long after, Howard's uncle died suddenly at 37 years of age, leaving behind a wife, seven children and a dairy farm. Howard immediately hitchhiked to Katy, Texas to help out. While he was there, he even tried out for the Houston Buffaloes, a minor league baseball team affiliated with the St. Louis Cardinals. Though Howard didn't make the cut, he did get to see the Yankees play an exhibition game – a well-earned consolation prize.
Howard returned to Greensburg in 1939 to work for Decatur County Bank at the request of his father. He continued to play baseball, and began dating Mary Ann Redelman.
Howard enlisted in the U.S. Army on January 7, 1942 after hearing of the attack on Pearl Harbor. He completed basic training at Ft. McClellan and served in Trinidad. During a two week leave, he returned home and asked Mary Ann to marry him. They were married in St. Mary's Church on February 22, 1944.
Howard was honorably discharged from the Army in October 1945, the same year he and Mary Ann had their first child, Carol Ann. They raised Richard, Dale, Helen, Sara, Joe, Tom, Mike and Ken from their homes on S. Michigan Avenue and Poplar Street.
Howard returned to banking, working at Union Bank and Trust before purchasing and running Ashley Machine, Inc. He worked in both industries until retirement in 1982. Sports were an important part of his life, as were his friends. Howard built a tennis court in his backyard to host matches, and secured a loan for the land that eventually became the back nine holes at Greensburg Country Club.  He continued to golf well into his 80's, and scored a golfers dream, a hole in one on hole #5 at the Greensburg Country club. He regularly hosted Wednesday night Ping Pong.
Howard was involved in Saint Mary's Church and the Knights of Columbus. He and Mary Ann enjoyed traveling abroad and visiting their many grandchildren. His love of a good martini is family folklore, as is his sense of humor. For example, late in his life, his daughter Helen pushed Howard into the doctor's office in a wheelchair. When the doctor asked how it was to raise nine children, Howard replied, "Well, look at me, I'm in a wheelchair!"
Howard was preceded in death by his parents, siblings and his wife Mary Ann, who passed in 2009.  Survivors include: Daughters: Carol Howe (husband Bill), Helen Black, Sara Amrhein, and Sons: Richard, Dale, Joe (wife Robin), Thomas, Michael (wife Nancy) and Kenneth (wife Viviane). Howard has 12 grandchildren and 18 great-grandchildren, all of whom were blessed to celebrate Howard's 100th birthday alongside him and many friends and loved ones in January 2020. Howard said hello to anyone he passed on the street. Remember him by giving a stranger a nod and a smile, and by calling someone you love to let them know you care.
A Private Burial will be held at St. Mary's Catholic Cemetery with Father John Meyer officiating. A Memorial will be held at a later date. Memorial Contributions can be made to the St. Mary's Building Fund. Online condolences can be made to the family at www.gilliland-how.com