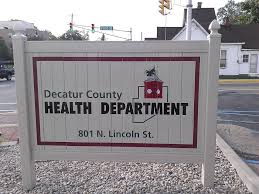 GREENSBURG, Ind. – The Decatur County Department of Health says the county has the highest per capita of confirmed COVID-19 cases in the state of Indiana, as of March 28.This means Decatur County has more cases than some of the larger cities based on cases per population.
"Decatur County residents have requested to know where the places of exposure are. Unfortunately, this information would not be relevant within a few hours of reporting. It is important that people assume that everywhere is a place of potential exposure and follow the Stay at Home order," the department announced in a Facebook post Saturday.
High exposure events held between March 1 – March 20:
The Emmaus Walk at the First Baptist Church held 3/12 – 3/15
The Decatur County Republican meeting held on March 12
2A Boys Basketball Tournament held at North Decatur
The Stay at Home order means that:
There should be a designated shopper for each household. Families should not go shopping as a group.
Children should stay at home whenever possible.
Neighborhoods should not allow socializing and children should not play together. This means no playdates, overnight visits with friends, etc.
Everyone should remain at least 6 feet away from anyone they do not live with to avoid exposure in necessary public places.