This is a press release from State Rep. Randy Frye: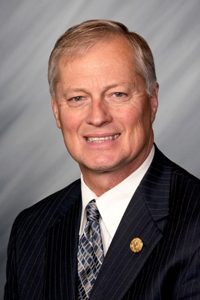 With agriculture contributing an estimated $31.2 billion to Indiana's economy each year, it's important steps are taken to keep Hoosier farmers working in the industry. Since the majority of local farmers are sole proprietors and operators, an obstacle they face is accessing affordable health care options. Through a new law I supported, non-profit agriculture agencies like the Indiana Farm Bureau will be able to provide health plans to its members, helping many local farmers qualify for affordable health benefits.
According to a study by the U.S. Department of Agriculture, a lack of access to affordable health insurance is one of the biggest concerns facing Hoosier and American farmers. This issue is causing some farmers to shut down operations because the high costs of health plans impact their bottom line or they seek other jobs that offer insurance. The study found 73% of farmers said reducing health care prices was an important factor in determining their business risk. It also found 52% of farmers surveyed were not confident they could pay for a major medical crisis, such as a heart attack, cancer or the loss of a limb without going into debt.
The new law allowing the Indiana Farm Bureau to provide a new health plan to its members could lessen this burden impacting the agricultural industry. Farm Bureau members can be farmers, Hoosiers who work in the ag industry, small-business owners and others who are supportive of Indiana's rich agricultural heritage.
This option will cover essential health benefits, such as office visits, preventative services and maternity and newborn care. Members who do not have access to group insurance plans, have fewer than two employees or do not qualify for Affordable Care Act subsidies could benefit.
With the governor recently signing this bill into law, Farm Bureau members could have access to health benefits by the end of the year. More information about the Indiana Farm Bureau and this new health care option can be found online at infarmbureau.com.