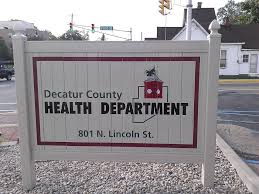 GREENSBURG, Ind. – The Decatur County Department of Health announced a total of 19 confirmed COVID-19 cases in the county on Thursday afternoon.
The health department published the information on their Facebook page and said "this number only reflects those cases that were sick enough to be tested."
Officials also encourage residents to follow Indiana's Stay-At-Home orders that were put in place earlier this week.
"Families should designate a grocery shopper and let that person shop alone. If you have to do laundry at the laundromat, do it alone. If you do have to go out, maintain a 6 ft. distance between you and anyone else," the agency wrote on Facebook.