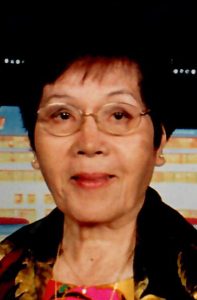 UPDATED SERVICE ARRANGEMENTS Fueko "Faye" Scudder, 93, of Carrollton, Kentucky passed away Saturday, March 14, 2020 at Gallatin Nursing and Rehab Center in Warsaw, Kentucky.  Faye was born Tuesday, February 15, 1927 in Nase Oshima, Japan, the daughter of the late Takeshichi and Uyori (Togo) Takeyama.  She married Leland Scudder December 26, 1962 and he survives.  Faye was a former employee of Roviar factory in Columbus, Indiana.  Her hobbies included: needlework; and sewing, at which she made her own clothing and made wedding dresses.  She enjoyed the beauty of flowers and loved to travel.
Faye is survived by her husband Leland of Carrollton, Kentucky; and sisters: Yoko, Miyoko, and Terue.  She was preceded in death by her parents, brothers, and sisters.
Due to the COVID-19 the family of Faye Scudder has decided to postpone the service till further notice.
Memorials may be given in honor of Faye to St. Jude Children's Hospital.  Filter-DeVries-Moore Funeral Home entrusted with arrangements, 12887 Lenover Street, Box 146, Dillsboro, IN 47018, (812) 432-5480.  You may go to www.filterdevriesmoore.com to leave an online condolence message for the family.