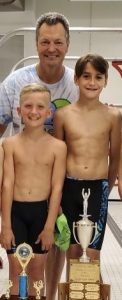 Unfortunately, with great disappointment, Indiana Swimming has decided to cancel the Spring Senior Championships and Age Group Championship Meets after considering the growing concerns of the coronavirus (COVID-19).
Two local swimmers would have represented the (H2O) Hoosier Hill Otters swim team coached by Batesville native John Schutte. "I am sure that we would have witnessed some amazing swimming. These two boys put in a lot of hard work and dedication to qualify for the biggest swimming stage in Indiana. Competing with the best swimmers in the state is a tremendous accomplishment and would have left the meet with an immense feeling of achievement. They both are now recognized as part of this elite group of swimmers"
Boys 11-12 age group.
Santiago Schutte- 12 -Sunman. 50, 100, 200 and 500 Freestyle; 50 and 100 Breaststroke; 200 Medley Relay – Breaststroke; 200 Free Relay – 4th leg.
Nash King – 11- Batesville. 200 Individual Medley (IM); 50 and 100 Butterfly; 200 Medley Relay – Butterfly; 200 Free Relay – 1st leg.
Qualifying Times must be achieved from Friday, March 1, through late entry deadline Friday, March 20. Swimmers must scratch down to 6 events for the entire meet plus relays. No more than 3 individual events per day. The meet will be run in Modified Championship Meet Format with preliminaries, consolation finals, and finals for the 12 & U and 14 & U and Open age groups.
Courtesy of Marisol Schutte.