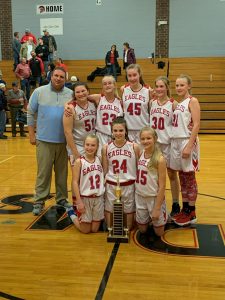 The 7th Grade Lady Bulldogs lost a heartbreaking championship game 20-17 last night to Sunman-Dearborn. The Lady Bulldogs gave unbelievable effort throughout the game but came up short in the fourth quarter. The Bulldogs finish a strong season 12-6, and the future is bright for this group of girls. Coach Weiler and Coach Campbell would like to thank all the girls for the effort they gave this season, and for making this fun and enjoyable season. Go Bulldogs!
Courtesy of Bulldogs Coach Chris Weiler.
The 8th Grade Lady Eagles wrapped up their season last night in the Championship Game of the SEI Tourney. The Lady Eagles defeated St. Louis 45-19 to end the year with a record of 20-1 claiming the SEI Title 2 years in a row. Scoring for the Eagles were Reagan Hughes 11, Julia Meyer 10, Reese Obendorf 8, Emma Wagner 6, Kinsey Rohls 5, Brooklyn Simon 3, Layla Miller 2. Also playing for the 8th Grade Eagles were two 6th graders Lanie Narwold & Brooklyn Simon. Congrats Ladies on a great season!
Courtesy of Eagles Scorekeeper Brandy Meyer.
The 8th Grade Lady Cards played in their final St. Louis career basketball game. We traveled to Sunman-Dearborn Middle School to play the Jac-Cen-Del Lady Eagles. We fell short with a final score of 45-19. Scoring for SLS were Claire Saner and Catherine Streator both with 7 pts each, Kate Weber bringing 4 pts, and Madison Wanstrath hitting a free throw. It has been a pleasure and honor to coach this group for the last 2 years. While we may have fallen short this last game of the tournament we made to this game through some stiff competition. They have had 2 great years with so much to carry with them. I can't wait to come to the high schools that are lucky enough to receive this talent and watch them at the next level of play. Truly my honor to coach them through their 7/8 grade years. Good Luck in the future ladies!
Courtesy of Cardinals Coach Erin Trenkamp.