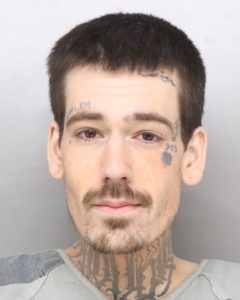 Rising Sun, IN—Late Wednesday night, a second suspect was arrested on Robbery charges related to the shooting that occurred in Ohio County on March 3.
Shortly after 6 am, on March 3, Indiana State Police Detectives began the investigation into the shooting that occurred outside of a residence on State Road 262 near Rising Sun.
The investigation determined that three men approached a 22-year-old Rising Sun man, who lives at the residence and attempted to rob him. The 22-year-old man displayed a gun and fired at the suspects. The three suspects fled the scene. A 20-year-old man from Ohio was soon found walking in the area, suffering from a gunshot wound to his abdomen. The 20-year-old suspect was transported to a Cincinnati area hospital for treatment of serious injuries.
Later in the day, Marcus Donald, 34, was found walking in the area. He was soon arrested on charges of Conspiracy to Commit Robbery and incarcerated in the Dearborn County Jail. A third suspect, Jesse J. Michel, 24, Cincinnati, Ohio was soon identified but not located that day.
Wednesday, Indiana State Police Detectives obtained an arrest warrant for Michel out of Ohio County on a charge of Conspiracy to Commit Robbery. Late that night, Michel was located in Cincinnati by Hamilton County Law Enforcement. He was incarcerated in Hamilton County, Ohio pending extradition back to Indiana. The investigation is ongoing. Additional charges and arrests are possible.