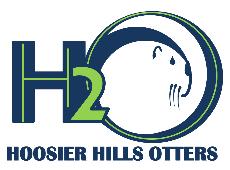 It's Swimming Championship Month for the Hoosier Hill Otters (H2O) swim team.
6 local swimmers will be representing the H2O (Hoosier Hill Otters) swim team. Located in Madison, IN and coached by Batesville native John Schutte.
"With the successes of our local high school programs this season, we now turn our attention to the foundation of those programs, the club team," said H2O head coach John Schutte. "H2O continues to grow as one of the premier programs in Southeastern Indiana. H2O has always had a strong showing at the Divisional and State Championship swim meet and this season will be no exception. We are proud of all our athletes who are committed to swimming and improving their skills throughout the year. Work hard and good things will happen…their hard work has paid off! We encourage our athletes to set goals, make plans, and ruthlessly work their butt's off to achieve their goals. This work ethic does much more than create unstoppable swimmers…it creates remarkable kids. We are proud to have 29 athletes in attendance this season at the Divisional swim meet, and 16 athletes who will be participating at the Age-Group and Senior State meet."
The swim season at H20 starts in October and ends February unless you qualify for Championship month in March. Practices are normally held on Monday-Wednesday-Thursday, occasionally Saturday mornings for about 2 hours.
Qualifying Times must be achieved from Friday, March 1, 2019 thru late entry deadline Friday, March 6. Swimmers who have qualifying state times in any event are not allowed to swim at the divisional championships.
Swimmers must scratch down to 6 events for the entire meet plus relays. No more than 3 individual events per day. The meet will be run in Modified Championship Meet Format with preliminaries, consolation finals, and finals for the 12 & U and 14 & U and Open age groups.
SWIMMERS:
Boys 13-14 age group:
Charlie Farlow (14)- Versailles
200 yard IM, 100 yard butterfly, 100 yard backstroke, 100 breaststroke, 50 and 200 freestyle
Evan Eaglin (14)- Friendship
200 yard IM, 100 yard butterfly, 50,100 and 200 freestyle
Boys 11-12 age group:
Santiago Schutte (12)- Sunman
100 yard breaststroke
Nash King (11)- Batesville
50 and 100 yard backstroke, 50 and 100 yard breaststroke, 100 and 200 freestyle yard
Boys 9-10 age group:
Madden Owens (10)- Batesville
50 and 100 yard breaststroke
Girls 9-10 age group:
Alejandra Schutte (10)- Sunman
200 yard Individual Medley (IM), 50 and 100 yard backstroke, 50 and 100 yard breaststroke, 50,100 and 200 yard freestyle
"Alejandra and Santiago had taken a 4 month break from swim to pursue other interests and to have both come back this season to qualifying state and divisional swim times is really impressive. It's not easy to come back from a break and swim the way they have been."
"Nash moved up this season to the 11-12 age group and within his first year has shown what a talented swimmer he is. It's such a big adjustment when kids move up an age group but Nash has been able to adjust and make divisionals as well as state times."
"This is Madden's first year swimming H2O and first time making divisionals. He's come along way this season. He's worked hard, set his goals and was very determined to make divisional qualifying times and hoping for a qualifying state time this weekend."
"Charlie, who will be attending Oldenburg Academy next school year, has really grown into a talented swimmer. The 13-14 boys age group is a very competitive group with fast qualifying times and Charlie has adjusted really well."
"Evan has been working very hard all season, with his mother Stacey as swimming head coach for both South Ripley's High School and Junior High swim team, it's no wonder why he has done an amazing job this season".
"It's exciting and a great accomplishment for these swimmers to make divisional and state qualifying times. It's rewarding for them to be able to swim at this level of competition because it shows the hard work they put into practices all season."
GOOD LUCK TO ALL SWIMMERS DURING CHAMPIONSHIP MONTH!