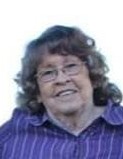 Virginia A Moore, age 83 of Napoleon passed away on Tuesday, February 25, 2020 in the comfort of family members. Virginia was born on January 6, 1937, the daughter of the late Albert and Maggie (Cornett) Adams in Letcher County, Kentucky. She grew up along with her brothers and sisters, attending school in Kentucky and enjoying life. In the mid 1950's life would see her family move to Sunman, Indiana.
Early in her work career, during the 1970's she worked for Phillip Morris in Kentucky. She then came back to Indiana and began to work for Gulf Plastics and Randall Factory in Greensburg. For several years, she worked for Browning's Campground as a cook and at Napoleon Auction House helping Neil Dean with weekly auctions.
She would meet and marry Carl Moore, and the two of them enjoyed their time together whether it be camping, local flea markets, or any type of auction. They enjoyed being on the go.
Virginia is survived by step-sons Carl (Becky) Moore of Napoleon, Phillip Moore of Kentucky, and Danny Moore of Kentucky, step-daughter Tresa (Dean) Jones of Montana, brothers Wm. Earl (Gail) Adams of Florida, Floyd (Debbie) Adams of Batesville, Kenneth (Marcia) Adams of Batesville, and Benjamin (Debbie) Adams of Batesville; several grandchildren and great grandchildren, along with numerous nieces and nephews. She was preceded in death by husband Carl Moore, brothers Edward, Harlan, and Woody, and sisters Sue Trent and Lula Mae Vaughn. The family would like to thank special friends and care givers Brandy Lutes, Jenny Reynolds, and Glenda Adams.
Visitation will be held on Monday March 2, 2020 from 11:00 am-1:00 pm. at Neal's Funeral Home in Osgood. Funeral service will also be held Monday at 1:00 pm. Burial will follow at South Park Cemetery in Greensburg, Indiana. In lieu of flowers, memorials may be given to the family in care of the funeral home.