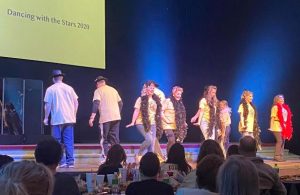 Greensburg, IN —The Greensburg Meals on Wheels held their annual Dancing with the Stars fundraising event at the Community Church in Greensburg. According to Executive Director Dianna Robbins, the "Roar into the Twenties" night was a success. Robbins stated that the event brought in approximately $9000 to help subsidize the cost of meals for local older adults in the community.
Several local celebrities danced the night away for the cause. Father-Daughter team Christopher and Jasmine Bailey took away the honors for best dance. Jasmine stated she was inspired last year when she attended with her dad, who was djing for the event, and that they decided this year they should dance.
The dance duo of Kelly Oakley and Christopher Fogle took honors for bringing in the most donations. Other participants included Ashley Hennen, Nevika Debaise, Kim Lingle, Kim Roberts, Michael Scharfenberger, Candice Jasper, and Terry and Ann Alverson. Next year the organization will celebrate the 10th year for the event and will celebrate by bringing back the best dance duos from at the seasons.