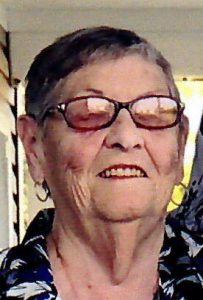 Lucy Ellen Hamilton, 89, of Aurora passed away Thursday, February 27, 2020 at Woodland Hills Care Center in Lawrenceburg.  Lucy was born Tuesday, August 5, 1930 in Orange County, Indiana, the daughter of the late Benjamin and Vada (Cotner) Gillum.  She married Don Hamilton April 5, 1973 and he survives.  Lucy was a homemaker and enjoyed traveling; bowling; crocheting; and knitting.
Lucy is survived by her husband Don of Aurora; son Stephen Robbins of French Lick; daughters: Brenda Robbins and Roseann Jantzen both of Kentucky; step-sons: Randy (Patrisha) Hamilton of Moores Hill and Rodney (Rena) Hamilton of Dillsboro; step-daughters: Raynell (Rodney) Beach of Aurora and Regina (Dave) Wood of Morrow, Ohio; several grandchildren; many great grandchildren; and numerous great-great grandchildren.  She was preceded in death by her parents; and thirteen brothers and sisters.
There are no services planned at this time.  Memorials may be given in honor of Lucy to the American Cancer Society.  Filter-DeVries-Moore Funeral Home entrusted with arrangements, Box 146, Dillsboro, IN 47018, (812)432-5480.  You may go to www.filterdevriesmoore.com to leave an online condolence message for the family.