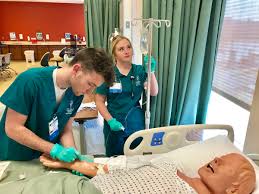 Lawrenceburg, IN—Ivy Tech Community College Lawrenceburg Campus is hosting an information session to discuss the Associate of Science in Nursing (ASN) programs, Practical Nursing (PN) program, and the Licensed Practical Nurse (LPN) to Associate of Science in Nursing (ASN) transition program.
These programs qualify for the recently announced EdOPP scholarship which was created to help improve Lawrenceburg's workforce and help pay for a college education. Ivy Tech is awarding students on a first-come, first-served basis up to $5,000 a year. If a student receives federal or state aid the scholarship will be applied to any balance after aid is credited.
The session will provide information regarding how the programs prepare students to earn nursing credentials, which local healthcare facilities often hire graduates, and high-demand career opportunities in nursing. In addition, important information about application deadlines, when classes begin, and eligibility requirements will be shared. The event is free and open to the public.
The event is Monday, March 16 from 12:30 p.m. – 1:30 p.m. at the Lawrenceburg campus, room 534.
For more information on Ivy Tech's nursing programs visit, click here or contact Hannah Schuler at [email protected]