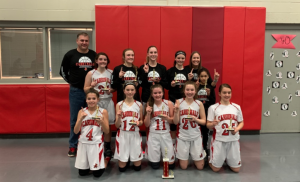 The St. Louis 7th-Grade Girls came in 4th overall. They played two very close games. Game one was against Milan with an ending score of 24-23. Scoring for SLS were Lucy Abplanalp with 21 pts, and Kenzie Maple with 2 pts. All these girls worked very hard in every aspect to make this game close time just wasn't in our favor. Game 2 the consultation game we played St. Bart. We lost to them 27-21. Scoring were Lucy Abplanalp with 13 pts, Kenzie Maple with 6 pts, and Paige Watters with 2 pts. Again a very tough fought game from the girls. Nice fight ladies.
The 8th Grade Lady Cards rolled out the Champs for the second year in a row for this group. Winning game 1 to Milan with a final score of 33-14. Scoring for SLS was Kate Weber with 11 pts, Rhea Miller with 8 pts, Claire Saner with 7 pts, Catherine Streator with 5 pts, and Lea Cossentino with 2 pts. These girls played well together and got the job done. Moving us onto the Champ game against South Decatur. That game ended with a final score of 39-21. Scoring for us was Kate Weber with 12 pts, Claire Saner with 11 pts, Catherine Streator with 8 pts, and the following all giving us 2 pts each: Ava Owens, Rhea Miller, Iza Wonnell, and Sadie Wachsmann. Great team effort to earn the bling ladies. Nice job!
Courtesy of Cardinals Coach Erin Trenkamp!