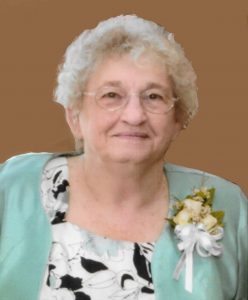 Anna Bowman Miller, 84, of Aurora, Indiana, passed away Sunday February 23, 2020 in Lawrenceburg, Indiana.
She was born January 2, 1936 in Owen County, KY, daughter of the late John B Dews and Beulah (Martin) Dews.
Anna worked at the Cannon Factory in Rising Sun, Indiana, and also at the Turkey Farm for 14 years. She then worked as a Custodian for Mt. St. Joseph for 7 years.
She was a former member of the Dearborn Adult Center, and a Member of the Kitchen Band.
Anna was a long time member of the Grants Creek Baptist Church. Anna and her first husband, James Edwin Bowman, used to sing and play at the church. She loved her church family and enjoyed going faithfully until her illness. She loved music. In her younger years she enjoyed dancing and singing. She collected angels, clowns and Precious Moments. She enjoyed being outdoors taking care of her flowers and landscape. Anna always had a smile. Her family was her greatest joy and she will be greatly missed.
Anna is survived by her children, Karen (Roger) Beard of Lawrenceburg, IN, Linda Vaught of Lawrenceburg, IN, Nancy (Harry) McConnell of West Harrison, IN, Lisa (Jason) Salisbury of Dillsboro, IN; step children, Linda Cultice of Columbus, OH; Shirley A Probst of Rising Sun, IN, and Junior Miller of Tennessee; sister, Viola McCormick of Columbus, IN, brother, John "Junior" Dews of KY; grandchildren, Don Beard, Angela (Adam) Middleton, Travis (Jessica) Beard, Stephanie (Chris) Corbo, Brandi (Rocky) Legge, Shelby (David) Kloosterboer, Samuel (Haleigh) Hollin, Hayley Whisman, Mikayla Harrison; great-grandchildren, Violet Middleton, Briah & Kinsley Engle, Alivia, Ayden, & Ainslie Corbo, Bennett & Tatum Legge; step grandchildren, Jude, Bailey, Jenny, Kaity and Kendra; step great-grandchildren, Coleman, Tristan, Cora, Noah and Liam.
She was preceded in death by her parents; first husband James Edwin Bowman, husband, Harry Miller; infant daughter, Anna M. Bowman; siblings, Florian, Benny & Glenn Dews.
Friends will be received Thursday, February 27, 2020, 5:00 pm – 8:00 pm at the Rullman Hunger Funeral Home, 219 Mechanic Street, Aurora, Indiana.
Services will be held Friday at 11:00 am at the funeral home.
Interment will follow in the Rising Sun New Cemetery, Rising Sun, Indiana.
Contributions may be made to the Grants Creek Baptist Church. If unable to attend services, please call the funeral home office at (812) 926-1450 and we will notify the family of your donation with a card.
Visit: www.rullmans.com