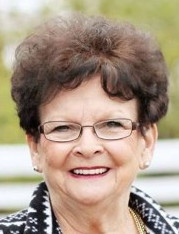 Elaine Gray, 72, of Milan passed away Saturday, February 22, 2020 at St. Elizabeth Hospital in Edgewood, Kentucky.  Elaine was born Tuesday, August 12, 1947 in Milan, Indiana, the daughter of the late Howard and Violet (Loomis) Justice.  She married Kenneth Gray December 9, 1968 and he survives.  Elaine was a homemaker and a member of Hope Baptist Church.  She enjoyed being on the computer; crocheting and donating what she crocheted to various children's hospitals.  She especially loved spending time with her family.
Elaine is survived by her husband Kenneth of Milan; son Kenneth Gray Jr. of Kentucky; daughters: Kara (Brian) Fisher of Aurora and Kristi (Kevin) Hyde of Moores Hill; sisters: Nina (Franklin) Davies of Dillsboro and Sharon Henson of Scottsburg, Indiana; and five grandchildren.  She was preceded in death by her parents; son Kevin Gray; brothers: Ben and Leo Justice; and sisters: Ora Withered, Anita Steele, and Minnie Mae Justice.
A memorial service celebrating her life will be held 3 PM Saturday, February 29 at Hope Baptist Church, 15593 HWY US 50, Dillsboro 47018, with Pastor Tom Holt officiating.  Family and friends may gather to share and remember her 1 – 3 PM Saturday, February 29 also at the church.  Memorials may be given in honor of Elaine to the American Heart Association.  Sibbett-Moore Funeral Home entrusted with arrangements, Box 156, Moores Hill, IN 47032, (812)744-3280.  You may go to www.sibbettmoore.com to leave an online condolence message for the family.