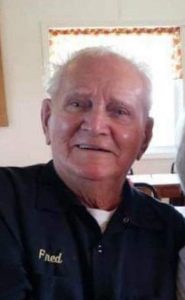 Fred T. Shoopman, 89, entered the pearly gates of heaven to be with our Lord and Savior on Monday, February 24, 2020.
Born, September 15, 1930 in Batesville, he was the son of Jessie and Della (Martin) Shoopman.
Fred worked at Mitchell Consolidated Veneer Sawmill for 17 years until it closed, then he worked at Delta Faucet for 18 years until he retired in 1988.  He served in the Korean War from 1951-53 in the U.S. Army.  He was a lifetime member of the VFW.  He belonged to the Community Nazarene Church, he gave Saturday morning gospel Tidings on WTRE, he loved his music, he recorded his own CD's for others to enjoy, he had a music room at home, and he sang at many functions in the area.
Fred was married to Mary Chambers in 1954 and she preceded him in death in 1993.  He then married Mildred Francis "Franny" Caster Hersley in 1994 and she survives.
Fred is survived by his wife; Franny Hersley, Greensburg, son; Freddie "Burt" Shoopman, Greensburg, two daughters; Janet Bayne and Sheila (Chance) Martin, both of Greensburg, eight step children; Gary (Debbie) Hersley, Chris (Sherry) Hersley, Kevin (Andrea) Hersley, Wade (Pam) Hersley, all of Greensburg, Theresa (Norman) Wiley, Kim (Marek) Hersley, Jill Hersley, all of Greensburg, and Hope (Scott) Wade, Hope, In., 7 grandchildren, several great and step grandchildren, and many nieces and nephews.
He was preceded in death by his parents, 1st wife; Mary Shoopman, three brothers; Jessie, Robert, and William Shoopman, sister; Audrey Woods, and son-in-law; Lee Bayne.
Visitation will be held from 4-8:00 p.m. Wednesday, February 26, 2020 at Porter-Oliger-Pearson Funeral Home in Greensburg.
Funeral Services will be held at 11:00 a.m. on Thursday, February 27, 2020 at the funeral home with Rev. Perry Cook officiating.
Burial and military graveside rites will follow at South Park Cemetery in Greensburg.
Memorials may be made to the American Legion Post 129 or to the Community Nazarene Church.
Online condolences can be made to the family at www.popfuneralhome.com