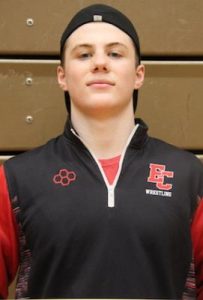 East Central Trojan Wrestler Bryer Hall captures the runner-up spot in the 152# weight class at The State Finals on Saturday Night at Bankers Life Fieldhouse.
Indiana 152 # #3 Bryer (46-2) came up short against #2 Jonathon Kervin (47-2) of Floyd Central by the score of 9-7 for The State Championship Crown.
Hall became only the second Trojan Wrestler to make it to The State Wrestling Championship Finals. Arik Wolf was the runner-up in 2004. Arik's brother, Adam, is the Head Coach of The Trojans Wrestling team. Another Wolf brother, Andrew, placed third back in 1998.