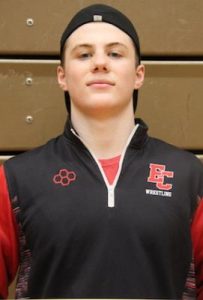 East Central Trojan Grappler Bryer Hall Advances To The Indiana High School State Wrestling Championship by winning his quarter-final and semi-final matches today and will wrestle for The 152# State Crown tonight at Bankers Life Fieldhopuse.
Bryer won his first match on Friday by pinning Shawn Hollis of Laurel in the third round. Hall won his quarter-final match earlier Saturday Morning by pinning Anthony Walker of Greenwood in the second round and victorious in his semi-final match on Saturday Afternoon by outscoring Logan Boe of Danville 17-12 to advance to The State Finals.
Indiana 152 # #3 Bryer (46-1) will be squaring off against #2 Jonathon Kervin (46-2) of Floyd Central for The 152# State Crown on Saturday Night.
Best of luck!