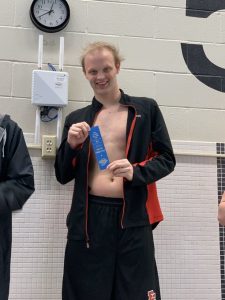 The East Central AquaTrojans had a wonderful Weekend at The Boys Swimming Sectional Finale at Columbus North.
The AquaTrojans placed fourth overall with four championships including the 200 Medley Relay team of Nick Weber, Jackson Ketham, Matt Baddinghaus, and Owen Matthew. Ketcham also placed first in the 200 Free and the 500 Free. All will be going to The Boys Swimming State Finals at The IUPUI Natatorium on Friday and Saturday, February 28th and 29th.
EC's John Crawley was the Sectional Diving Champion and will participate at The Bloomington South Regionals on Tuesday, February 25th.
Bloomington North won the team Sectional Championship. In addition to The AquaTrojans finishing fourth, other area results include Milan 6th, Batesville 7th, South Dearborn 9th, Lawrenceburg 10th, Oldenburg 11th, and Grensburg 12th.
Photo courtesy of EC Trojan Athletics.