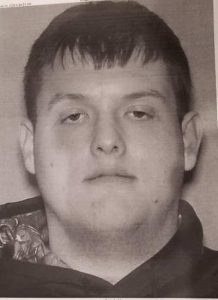 Connersville, IN—
Update-Thursday afternoon, Ryan M. Spurlock, 23, of Laurel, was located and arrested by Connersville Police Department officers at a residence in Connersville. An arrest warrant for Spurlock was issued on February 5 through Fayette Superior Court, in connection to the shooting that occurred on Indiana Avenue, in the late evening hours of February 2.
Spurlock has been charged with allegations of Aggravated Battery with a Deadly Weapon, Carrying a Handgun without a License, and Criminal Recklessness with a Firearm. More charges are likely to come according to officials, as more evidence has become available.
Spurlock is being held in the Fayette County Jail without bond, awaiting his initial hearing.
Original Story-
The Connersville Police Department is asking for the assistance of the public in finding a person of interest in the investigation of a shooting that took place on February 2 of this year on Indiana Avenue. The subject, Ryan Spurlock, 23, of Laurel has been identified as a possible suspect and the Detective Division is asking for help in locating this subject. If you have any information regarding Spurlock, please contact Detective Rick Wilcox at 765-825-2111.
Authorities ask that if you see Spurlock, do not approach him and immediately call 911 to advise Police of his location.