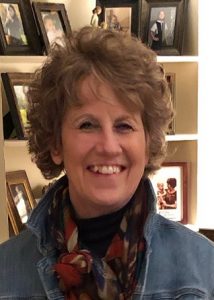 Penny Marie Hipskind – wife, mom, friend, and Nana-extraordinaire – passed away on February 21, 2020, with the love of her life, her husband of 40 years and high school sweetheart, Keith, by her side.
Throughout her battle with cancer, but especially in her final days, her home was filled with great food, raucous conversation, and reverent prayer.  Each was a testament, as were the family and friends who brought them, to the way Penny lived her life: in service to others, with great joy for the Lord, and with a glass of wine in her hand and a story about her grandchildren to share.
Penny was born July 8, 1956, in Kokomo, Indiana, to Jay and June Calloway, and raised in Wabash, Indiana.  She was always a woman of great faith.  She was a member of St. Mary's Catholic Church in Greensburg for the past 23 years, and a proud member of a women's bible study that has met regularly for over ten years.  But Penny did far more than go to church; she was the church.  She and Keith dedicated their lives throughout their time in Wabash, Indianapolis, Washington, D.C., northern Indiana, and Greensburg to loving, feeding, and clothing their neighbors.  She was present to people always, but especially in their time of need.
Penny first cultivated her servant's heart as an elementary school teacher, earning her B.S. from Ball State in 1980. But her greatest act of love was in serving her husband, her children, and their big extended families.  She was the ultimate coach's wife, welcoming countless young men into her home and showing them through thousands of spaghetti dinners that they would live in her heart forever.  She did so because she loved each of them and because she was her husband's biggest fan.
In addition to Keith, her great passions were her three kids – Kelly, Kate, and Kara – their loving spouses – Carla, Hector, and Matt – and her adoring grandkids – Mica, Callie, Cici, Naomi, Birdie, Agnes, Mae, Zeke, Gus, and Xabi.  She often said, I may not have lived perfectly but I have lived passionately.  And, oh, did she live.  Despite cancer, she remained an eternal optimist, an avid adventurer, a stellar party planner, and, most of all, a dedicated Nana who dried every tear.
Penny is preceded in death by her beloved parents, Jay and June, and mother-in-law Joyce, her brother, J.R., and Kara's beautiful little ones, Dominic and Miriam.  She is survived by Keith, her children and grandchildren, and Keith's siblings – Laura, Julie and Rick, Kathy and Bill, Steve and Kathy, and Phil – and her father-in-law Tom and his wife Marilyn.  She will also be celebrated in death, as she was in life, by her beloved nieces and nephews.
Penny did not know a stranger.  This proved problematic at times when trying to go out to eat or getting her out of church on Sundays.  But in the end you truly reap what you sow.  She lived a life of service, and those she loved and cared for over the years returned to sit by her side.  She and her family remain forever grateful.  And although we will miss this exuberant woman with energy for days, we know she is now dancing in heaven to her favorite song, "Boogie Shoes," and offering the Lord a bit of advice on the best appetizers and way to set the table.
Family and friends will gather at 3:30 p.m. on Thursday, February 27, 2020 at St. Mary's Catholic Church to pray the rosary.  Visitation will follow until 8:00 p.m. at the church in Greensburg.  The family will also receive friends from 9:00 – 9:45 a.m. on Friday at the church. The Funeral Mass will be held at 10:00 a.m. on Friday with Rev. John Meyer officiating.
Interment will be held in the St. Mary's Catholic Cemetery in Greensburg.
Memorials may be made to the St. Mary's Catholic Church.